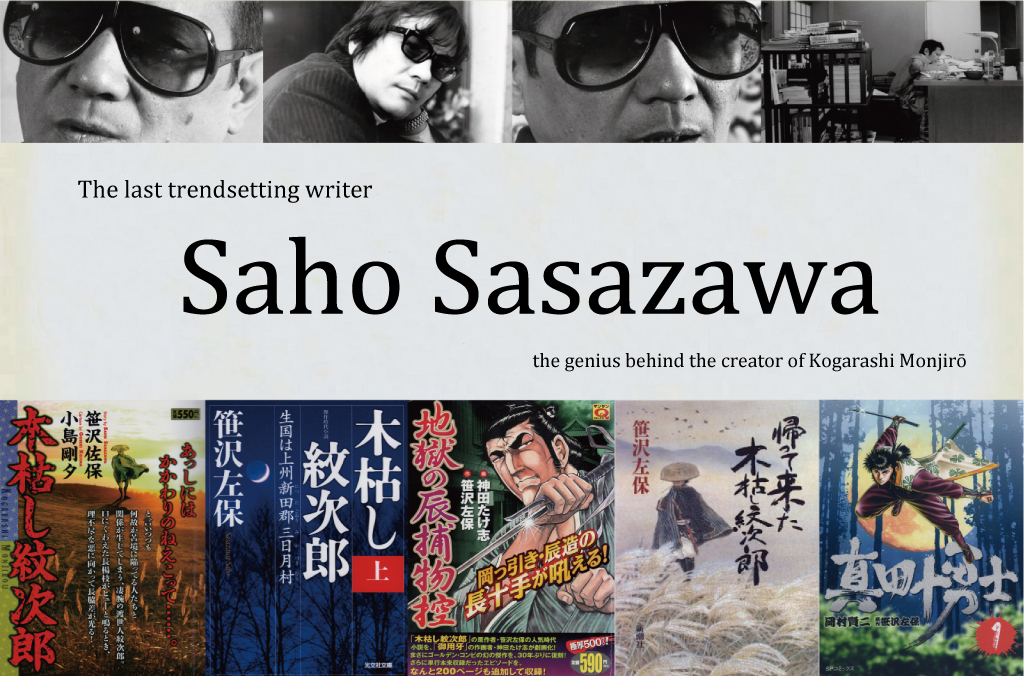 (C)Saho Sasazawa and Licensed by soon inc
~The last trendsetting writer~
Saho-Sasazawa: the genius behind the creator of Kogarashi Monjirō
Saho-Sasazawa (1930-2002) wrote some 380 works during his lifetime.  Bestselling author Seeichi Morimura would dub him "the quintessential trendsetting writer".  Sasazawa was loved and revered by many a writer besides Morimura: Yō Sano, Kenzō Kitakata, Gō Osaka, to name a few among the luminaries of the Japanese literary world, and was a gravitating force.  He is known as the author of Kogarashi Monjirō series, which has been televised and took Japan by storm.  He excelled in writing hardcore mystery and suspense novels such as The Uninvited Guest, Hitokui ["Cannibal"], while at the same time, he wrote many superbly crafte and much-talked-about pieces novels in the samurai fiction genre, such as Shin-Ōoka seidan, The Sanada Ten Braves, and Miyamoto Musashi.  His variety of style and prolificity was without match or peer.  At his peak, his output surpassed 1500 pages per month, yet he still managed to produce works that became hits.  There are anecdotes about him writing while standing so he would not fall asleep, and chronicles of the circles of the illustrious crowd he hobnobbed with.  He truly was an author who lived up to his trendsetter reputation.
He built himself a Golden Age as popular author, but what made his fame, beyond all else, was Monjirō first televised on Fuji TV in 1972.  The protagonist first came to life in his 1971 novel, Shamen-bana wa chitta ["The Clemency bloom has fallen"], and defied being the typical hero of the matatabimono ("stories of wandering gamblers") who went about slicing down all the baddies to rescue upstanding citizens; instead, Monjirō was a cool and aloof character, who avoided getting involved with strangers, surviving through life relying solely on his own skills and abilities.  It established a fresh, new approach to the hero in the genre.  It gained unprecedented popularity, from book to TV to movie, and regarded as a social phenom.  In the over half-century of television, Monjirō portrayed by actor Atsuo Nakamura has not lost its luster as TV hero.
We at Soon, Inc. have been appointed exclusive agent to merchandise all 380 works left by Saho Sasazawa.  We can help you make use of Sasazawa's world in all his varied themes, on TV or film, games, or magazines.
A samurai period film project
Kogarashi Monjirō
Shamen-bana wa chitta ["The clemency bloom scatters"]

Original story by◆Saho Sasazawa
SOON, INC.
【Project strategy】
Kogarashi Monjirō is a renowned samurai period drama series about a travelling gambler. Adapted from the original work by Saho Sasazawa, and produced under the supervision of acclaimed film director Kon Ichikawa it aired on TV beginning on New Year's day, 1972. The series featured innovative swordplay choreography ("tate") and theme song choices that were which were unchartered by previous period dramas or gambler genre pieces. The cinematography was realistic down to its details, captured on film bytop-quality crew recruited from the movie industry, captivating audiences. Despite the disadvantages of the 10:30 time-slot, it achieved a 32% rating at its peak. The show became a sensation, affecting Japanese society at large. The TV drama fueled the production of movie versions. In the summer of 1972, the film adaptation of the Shamen-bana wa chitta ["The clemency bloom scatters"] reached theaters, under the production of the Tōei Company. It starred Bunta Sugawara, and was directed by Sadao Nakajima. Kogarashi Monjirō the Movie fell into oblivion after many years, until it was released in DVD format February 2019. And audiences who viewed the DVD are reacting with all sorts of favorable buzz. One reviewer said it was reminiscent of The Count of Monte Cristo by Alexandre Dumas père. Another reviewer said movie brought to mind Henri Charrière's autobiographical novel Papillon and its film version starring Steve McQueen and Dustin Hoffman. On the lone island of Miyake-jima, convicts have been sentenced to hard labor. The volcano erupts, sending the island-dwellers into panic. A group of five convicts including Monjirō steal a boat and make a dramatic escape. Aboard the boat an inner squabble develops, which turns deadly. Monjirō then discovers his blood-brother had been the one to betray him. Enraged, Monjirō storms this brother's mansion, brandishing his long wakizashi sword! A new remake of this movie in the present day would surely need to target a global audience, including the Asian consumer market. The original film strictly catered to Japan's domestic tastes, but the new film will aim at a global viewership, taking advantage of the ongoing revolution in media distribution. As just described, we have the makings of a turbulent and action-filled drama, ready to be played out. Further embellishments can turn the story into that of a "Riot on a Mediterranean island," or a "Western in the woodlands, USA" or "Kung fu spectacular in the deserts of China." Despite the rich and intricate plotline twists, this all unfolds as action entertainment. That is the selling point of Monjirō's "scattering bloom" chapter, a factor we can greatly expect to exploit.
【Storyline】
Shamen-bana wa chitta ["The scattering bloom of clemency"]
Traveling gambler Monjirō accused of the murder of a money-lender in Hino is exiled to Kamitsuki village on Miyake-jima island. Life on the island is harsh and miserable. The only way to avoid starvation was to beg islanders for odd jobs. Among the exiled convicts in the village, there was a group of men planning escape. The group was headed by Sutekichi the fisherman, and also included Genta the gardener, Seigorō the gambler, and Ohana the former prostitute. Seigorō tapped Monjirō, a man he revered as a brotherly figure, to see if he wanted to join. But Monjirō did not find the escape plan very enticing. In truth, Monjirō was only serving out the sentence on behalf of a sworn brother named Samonji. Samonji told a tale about a sick bedridden mother, and Monjirō shouldered the crime so he could take care of the mother untill death. The girl Oyū (daughter of an exchange merchant in Hino and Samonji's neighbor) who heard about Monjirō being sent to Miyake-jima threw herself into the Sumida River and drowned. This was quite a shock to Monjirō, since Oyū was a girl from a good home, and part of the upstanding citizenry, not a do-no-gooder like him, and besides, they barely exchanged words with one another. In Kamimura village, Monjirō became acquainted with a woman also named Oyū. Oyū had invested hope that a writ of clemency would arrive one day and she would have her freedom. According to a legend held among the exiles, when the cycads growing on the cliffs open their red blossoms, this was known as the "bloom of clemency," and was supposed to portend amnesty for some prisoners. But when the semi-annual boat carrying new exiles arrives, there is no writ of clemency for Oyū, and in despair, she throws herself off the cliff. Meanwhile, one newly arrived exile informs Monjirō that Samonji's mother had already died many months ago. When he learns his sworn brother had tricked him, Monjirō's face is overcome by a look of emptiness. Monjirō now decides to participate in Seigorō's escape plan. Several days later, the Odake volcano on Miyake-jima erupted spectacularly. Boulders flew out, the lava flowed down its ridges, and the whole island was panic-stricken. In the interim, the fivesome managed to steal a fishing boat to leave from their confinement. However, there were too many people who knew their secret for the escape to fully succeed. Sutekichi started off by eliminating Genta and Ohana, running them through with his large katana sword. The boat carrying the three survivors beached ashore in Ajiro, Izu Province. Sutekichi now slashed down Seigorō, but he too was cut down by Monjirō. Seigorō, in his dying breath confesses that he had been assigned the mission to assassinate Monjirō by Samonji. Monjirō readied himself for a journey and hurried to Hino. Monjirō storms Samonji's headquarters. But there stood Oyū, who had faked her suicide. It is then revealed that Oyū was the mastermind behind the whole scheme. The charade was over, yet Oyū still has the gall to beg Monjirō for mercy. Samonji tries to capitalize on the distraction and draw his long wakizashi, but Monjirō's long toothpick gouges his eye, and the reeling Samonji is cut down. As Oyū screams, Monjirō spits out these words: "the bloom of clemency is all scattered now." (End of synopsis)
The Return of Kogarashi Monjirō
Released 11/20/1993 (Sat.)
Directed by: Kon Ichikawa
Cast: Atsuo Nakamura, Ryoko Sakakuchi, Ittoku Kishibe, Takeshi Kato
Celebrating the 20th anniversary of the human drama Kogarashi Monjirō (1972-73), the original star Nakamura, novelist Sasazawa, and director Ichikawa teamed up once again as a trio, to create this feature-movie length work captured on 35mm film.  Sasazawa wrote the original synopsis, adapted by Ichikawa, actor Nakamura and Katsuyuki Nakamura in collaboration.  It was shown in a special screening in theaters prior to TV broadcast.
Akuma no hitojichi ["Devil's hostage"] (1982, Dir. Chūsei Sone )
Released 4/29/1983 (Fri.)
Directed by: Akira Kato
Cast: Kazumi Sawada, Rena Natsuki, Mai Inoue, Naohiko Shigeta
An office girl jilted by boss and attempted suicide. A bank robber wanted by the police  This is the story of their romance.  A film adaptation of a Sasazawa novel under the same title, screenplay by Susumu Saji (Madame Scandal: Let me die 10 seconds), directed by Akira Kato (Aijū: akai kuchibiru ["Love-beast: scarlet lips"]), and cinematography by Yonezō Maeda (Orecchi no wedding).
Akuma no heya ["Devil's Chamber"]
Released 4/23/1982 (Fri.)
Directed by: Chūsei Sone
Cast: Reiko Nakamura, Johnny Ōkura, Ryōhei Uchida, Masami Horiuchi
A man with a family secret, burning with desire for revenge.  His victim, the wife of the wrongdoer.  The world of sensuality and depravity painted by Sasazawa comes to life in this film adaptation.  Directed by Chūsei Sone (Taiyō no kizuato ["Scar-marks of the sun"]), screenplay co-written by Sone and Toshimichi Saeki.  Camera-work by Nobumasa Mizunoo (Kairaku onsenkyō: nyotai buro).
House
Released 7/30/1977 (Sat.)
Directed by: Nobuhiko Ōbayashi
Cast: Kimiko Ikegami, Kumiko Ohba, Ai Matsubara, Miki Jinbo
Feature-length directorial debut for Nobuhiko Ōbayashi, the wunderkind of TV commercials.  The plot unfolds around the seven young girls at the eerie Hausu Mansion in this occult film; its phantasmagoric scenes are interwoven with slapstick black humor.  Screenplay by Chiho Katsura (Hotel kyosei waisetsu jiken: okashite!), camera-work by Yoshitaka Sakamoto
Mushukunin Mikogami no Jōkichi III: Tasogare ni senkō ga tonda ["Sparks flew in the twilight"]
Released 6/9/1973 (Sat.)
Directed by: Kazuo Ikehiro
Cast: Yoshio Harada, Isao Natsuyagi, Michiyo Ōkusu, Setsuko Ogawa
Third volume of the Mikogami no Jōkichi series.  Jōkichi pursues Kunisada Chūji (legendary leader of lawless gamblers, usually known for chivalry), whom he deems responsible for the death of his beloved wife and child.  His path is hindered by a series of skilled fighters, but then, a strange sort of friendship is struck between the combatants of these death-duels.  Screenplay by Hideichi Nagahara (Hangyaku no hōshū ["Payment for betrayal"]), Kazuo Ikehiro directs again continuing from the previous volume (Mushukunin Mikogami no Jōkichi II: Kawakaze ni kako wa nagareta ["The past flowed away in the river wind"]), camera-work by Kōzō Okazaki (Kigeki: Dorobō daikazoku tenka wo toru).
Mushukunin Mikogami no Jōkichi II: Kawakaze ni kako wa nagareta ["The past flowed away in the river wind"]
Released 10/10/1972 (Tue.)
Director: Kazuo Ikehiro
Cast: Yohsio Harada, Atsuo Nakamura, Tōru Minegishi, Etsuko Ichihara
Second volume in Sasazawa's novel series turned movie. Jōkichi goes on an unending journey in pursuit of the perpetrator who brutally murdered his wife and son.  Screenplay by Yoshihiro Ishimatsu (Mushukunin Mikogami no Jōkichi I: Kiba wa hikisaita ["The fangs that tore apart"]), directed by Kazuo Ikehiro of volume I who wrote its screenplay, camera-work by Kazuo Miyagawa of volume I.
Kogarashi Monjirō: Kakawari gozansen ["Ain't nothing that concerns me"]
9/14/1972 (Thu.)
Directed by: Sadao Nakajima
Cast: Bunta Sugawara, Etsuko Ichihara, Kunie Tanaka, Minoru Ōki.
Film adapataion of the second volume in Sasazawa's Monjirō series.  Departing from the original story, this film explores the formation of the man this Monjirō has become, and the underlying secrets.  Saddled with an ineradicably cruel past, Monjirō nevertheless perseveres through the tough day-to-day reality.  This movie moves along highlighting such a man's solitude and pathos.  Screenplay by Tatsuo Nogami (Bakuchi-uchi gaiden ["Gambler: the untold tales"]), directed by Sadao Nakajima (Mamushi no kyodai: shōgai kyōkatsu jyūhappan ["Viper brothers: 18 counts of assault and extortion"]), camera-work by Motoya Washio (Kogarashi Monjirō).
Kogarashi Monjirō
Released 6/21/1972 (Tue.)
Directed by: Sadao Nakajima
Cast: Bunta Sugawara, Gorō Ibuki, Rin'ichi Yamamoto, Tsunehiko Watase
A faded indigo cape and sandogasa hat, an extra-long toothpick, a blade scar on the left cheek.  The work introduced a fresh new wind to the hackneyed matatabi-mono (wandering gambler novels), and once televised, captured wide attention.  This is the movie version.  Screenplay by Takayuki Yamada (Nihon akuninden: jigoku no michizure ["Tales of the bad men of Japan : I'll send us both to hell"]), directed by Sadao Nakajima (Chizakura sankyōdai ["The three bloody cherry blossom brothers"]), camera-work by Motoya Washio (Junko Fuji retirement commemorating movie: Kantō hizakura ikka).
Mushukunin Mikogami no Jōkichi I: Kiba wa hikisaita ["The fangs that tore apart"] Released 6/10/1972 (Sat.)
Directed by: Kazuo Ikehiro, Kiyoshi Segawa
Cast: Yoshio Harada, Atsuo Nakamura, Tōru Minegishi, Sanae Kitabayashi
Film adaptation of Sasazawa's groundbreaking work that made "wandering gambler stories" the new fad in historical or period fiction-writing.  A man had already renounced his hoodlum-gambler ways, but when his wife and child is brutally murdered, he mounts on a trip to exact vengeance.  Screenplay by Yoshihiro Ishimatsu (Gendai yakuza: hitogiri yota), directed by Kazuo Ikehiro (Kataashi no ace ["The one-legged ace"]). Camera-work by Kazuo Miyagawa.
The 3000 kilogram trap.
Released 5/22/1971 (Sat.)
Directed by: Jun Fukuda
Cast: Jirō Tamiya, Kaori Taniguchi, Mie Hama, Yūko Tobe
First film by actor Jirō Tamiya's production company, Tamiya Kikaku. Based on theoriginal novel by Saho Sasazawa, a popular writer of mysteries and modern-touch wayfaring gambler stories.  Screenplay by Yoshihiro Ishimatsu (Comedy: Kinō no teki wa kyō mo teki ["Yesterday's enemy is still today's enemy"]), directed by Jun Fukuda (Comedy: Sore ga otoko no ikiru michi ["That is way a man must live"]). Camera-work by Yuzuru Aizawa (Keiji monogatari: kyodai no okite).  Music by Norio Maeda, composing a jazzy main theme and forming a percussion-based new band to play it.
Itsuka kuru sayonara ["Good-bye which will come some day"]
Released 12/17/1969
Directed by: Yoshirō Kawazu
Cast: Kazuo Funaki, Sachiko Mitsumoto, Isao Yamagata, Nobuyuki Katsube
Based on Sasazawa's Haikyo no shūi ["Periphery of the ruins"], retold by Toshirō Ashizawa、with Yoshirō Kawazu taking up the megaphone after a 4 year hiatus since Oshaberi na shinju ["The chatterbox pearl"].  Camera-work by Hiroyuki Nagaoka (Eiketsu: wakare).
Nureta futari ["Two people gone wet"]
Released 11/30/1968
Directed by: Yasuzō Masumura
Cast: Ayako Wakao, Kinya Kitaōji, Etsushi Takahashi, Mayumi Nagisa.
Developed based on Sasazawa's Sōshitsu no onna ["The forlorn woman"], adapted by Nobuo Yamada and Takako Shigemori.  Directed by Yasuzō Masumura (Tsumiki no hako ["The wood-block crate"]).  Cinematography by Setsuo Kobayashi (also Tsumiki no hako).
Kūhaku no kiten yori: onna wa fukushū suru ["A woman will get her revenge"]
Released 10/15/1966
Directed by: Kazuo Hase
Cast: Shigeru Amachi, Chisako Hara, Saeda Kawaguchi, Kaneko Iwasaki
Based on Sasazawa's original novel Kūhaku no kiten ["Starting point for blankness"], an erotic mystery adapted by Ichiro Miyagawa (Kantō yakuza arashi) and directed by Kazuo Hase. Camera-work by Masao Kosugi (Bocchan, 1966).
Roppongi no your: aishite aishite ["Night in Roppongi: Love me, love me"]
Released1/29/1963
Directed by: Katsuki Iwauchi
Cast: Tōru Minegishi, Masao Shimizu, Yuki Nakagawa, Keiko Awaji.
Sasazawa's Roppongi Shinjū 「"Roppongi double-suicide"」 was serialized in the monthly Chuō kōron.  Modified for film by Yasuo Tanami (Wakai kisetsu, 1962).  A drama of youth by first-time director Katsuki Iwauchi,  Camera work by Taiichi Kankura (Watashi to Watashi).