Agnes Lum
Licensed by excor inc., and soon inc.
In 1975, one adorable, lovely girl from Hawaii arrived in Japan. It was the dawning of the Age of Gravia Idols of Japan!
Photospread models become all the rage. Agnes Lum. She is the gravia idol for all eternity. Despite her splendidly proportioned figure, and there was something very approachable about the "Agnes" character.
Agnes Lum was the name that inspired the iconic "Lum" character in Urusei Yatsura (by the creator of inuyasha), and an indispensable part of the vocabulary of Japanese subculture. Her photos still enjoy lasting popularity in the gravia idol world.
SOON, Inc. has exclusive rights to negotiate use of Agnes Lum's likeness and licensing for merchandise. Talk to us.
Her name or image is avaiable for use in various goods, including interior accessories, apparel, and beauty & hygiene products.
Saho Sasazawa

(C)Saho Sasazawa and Licensed by soon inc
~The last trendsetting writer~
Saho-Sasazawa: the genius behind the creator of Kogarashi Monjirō
Saho-Sasazawa (1930-2002) wrote some 380 works during his lifetime.  Bestselling author Seeichi Morimura would dub him "the quintessential trendsetting writer".  Sasazawa was loved and revered by many a writer besides Morimura: Yō Sano, Kenzō Kitakata, Gō Osaka, to name a few among the luminaries of the Japanese literary world, and was a gravitating force.  He is known as the author of Kogarashi Monjirō series, which has been televised and took Japan by storm.  He excelled in writing hardcore mystery and suspense novels such as The Uninvited Guest, Hitokui ["Cannibal"], while at the same time, he wrote many superbly crafte and much-talked-about pieces novels in the samurai fiction genre, such as Shin-Ōoka seidan, The Sanada Ten Braves, and Miyamoto Musashi.  His variety of style and prolificity was without match or peer.  At his peak, his output surpassed 1500 pages per month, yet he still managed to produce works that became hits.  There are anecdotes about him writing while standing so he would not fall asleep, and chronicles of the circles of the illustrious crowd he hobnobbed with.  He truly was an author who lived up to his trendsetter reputation.
He built himself a Golden Age as popular author, but what made his fame, beyond all else, was Monjirō first televised on Fuji TV in 1972.  The protagonist first came to life in his 1971 novel, Shamen-bana wa chitta ["The Clemency bloom has fallen"], and defied being the typical hero of the matatabimono ("stories of wandering gamblers") who went about slicing down all the baddies to rescue upstanding citizens; instead, Monjirō was a cool and aloof character, who avoided getting involved with strangers, surviving through life relying solely on his own skills and abilities.  It established a fresh, new approach to the hero in the genre.  It gained unprecedented popularity, from book to TV to movie, and regarded as a social phenom.  In the over half-century of television, Monjirō portrayed by actor Atsuo Nakamura has not lost its luster as TV hero.
We at Soon, Inc. have been appointed exclusive agent to merchandise all 380 works left by Saho Sasazawa.  We can help you make use of Sasazawa's world in all his varied themes, on TV or film, games, or magazines.
Hokkun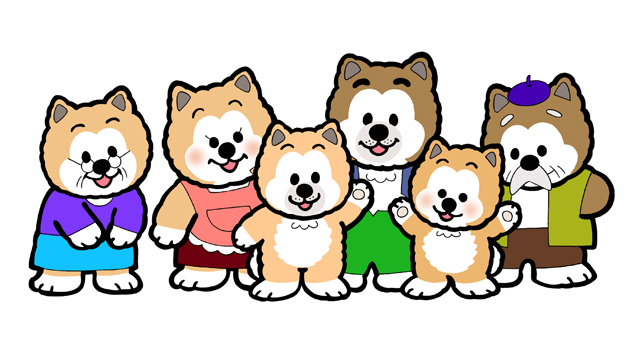 (C)soon inc.
Hokkun the Akita dog is an immensely popular, cuddly smiley character.
He was chosen as mascot for Hokuto Bank of Akita, and has virtually become the resident icon for all of Akita Prefecture.  Hokkun has brought smiles to the faces of children and adults alike.  And now he has a sweetheart named "Hocchan" too, to add to his big family.
In recent years, a Hokkun monument has been erected.  And he also makes personal appearances as an animal suit character, delighting and cheering everyone.
Shigemi Hijikata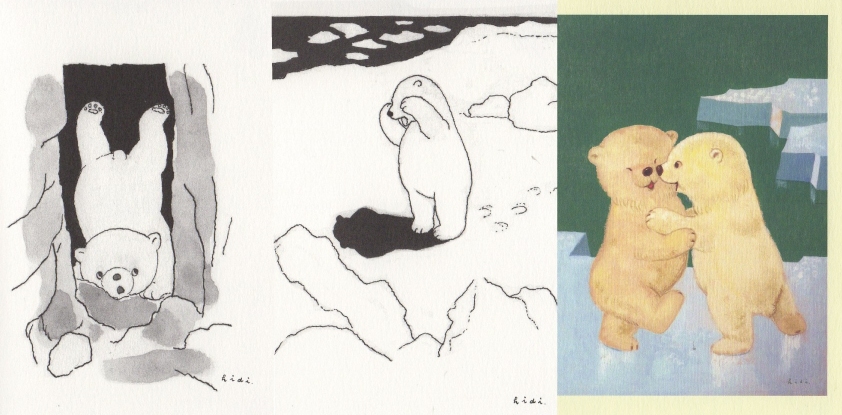 Adventures of the Polar Cubs
Mushka and Mishka are twin polar bears born in the North Pole. One day, when mama bear was not watching, the two of them snuck out of their ice cave. In the open snowy plains, they soon become lost, turning into wandering stray bears… Based originally on a classic children' fairytale by Tomiko Inui, retold with a cuddly charm by Shigemi Hijikata.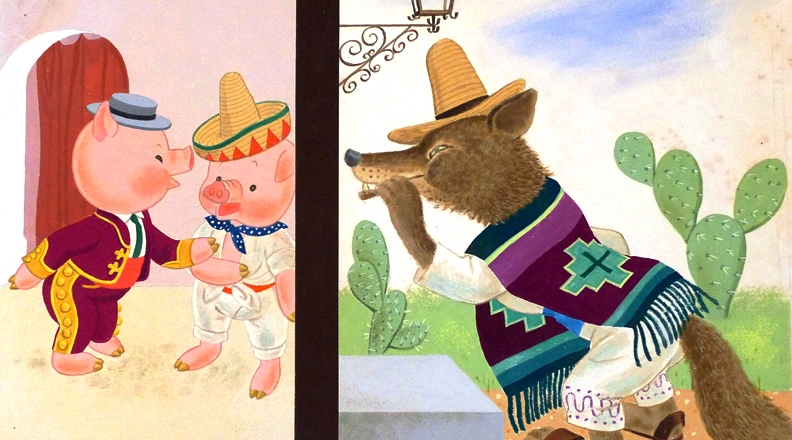 Shigemi Hijikata is the illustrator of numerous illustrated books, beginning with Mori no ōsawagi ["Great panic in the forest] (1949). He went on to illustrate Pinnochio, The Lion's Spectacles, Tales of Aesop, and Muukashi no bōken, many in collaboration with writer Tadasu Iizawa.
His The Mouse and the King (1953), published by Iwanami as a part of its children's book series, is considered a seminal work that helped establish a new trend in illustrated books during the postwar period.
He also published work serialized in such periodicals as Kinderbook, Mebae, Yōchien, and Yoiko, He was the creator of children's idols such as Boo Foo Woo and Pinkuma-chan. A retrospective of his works was organized at a museum in Nishinomiya (near Kobe) in October 2018.
He has left some 1000 pieces of original art, sketches, and character design drawings, etc. Our company is the representing agent of these works, available for merchandising. Hijikata's world is truly multi-varied. The images are ready to be used on your company's TV program or houseware, apparel, dishes, stationeries, etc.
SLUSH PUPPiE
©2020 SLUSH PUPPIE is a registered trademark of The ICEE Company Master Agent Design Plus USA / and Licensed by soon inc
SLUSH PUPPiE is a pure bred brand filled with childhood memories!
A brand consumers crave and rave about. A brand famous for the squirt of flavor. A brand strongly associated with schools.
Dog-gone delicious!
Lonely Dog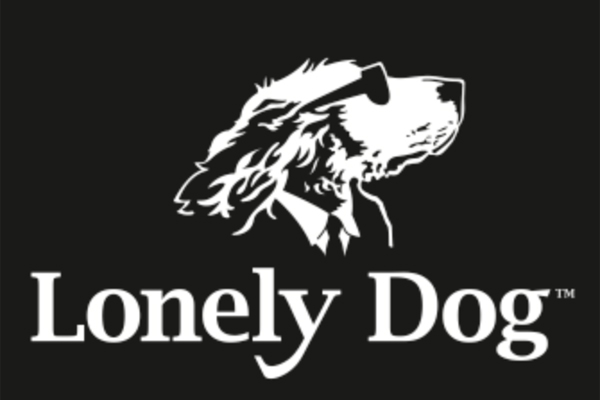 ©2020 Lonely Dog GP LTD All rights reserved and Soon Inc
The Story of Lonely Dog
About the novel by Ivan Clarke and Stu Duval
(adapted from the synopsis here http://lonelydog.com/about-lonely-dog/story-of-lonely-dog )
A puppy left abandoned at the Houndside Orphanage. He is something of a loner, and earns the nickname, "Lonely Dog." He dresses up tidily in a suit at the orphanage, and is seen as an oddball. But within lay hidden a rock musician's talent. But in the world of Alveridgea, the Hounds were enthralled by the Felines. After many twists and turns, Lonely achieves his fame and stardom. But what of his sweetheart Kelzie, or his guardian friend Bronson? Will they ever be re-united?
Ivan Clarke
Author's bio in brief
(adapted from the profile here http://lonelydog.com/about-lonely-dog/artist )
The artist Ivan Clarke resides in Queenstown, New Zealand.
The world of Lonely Dog was inspired by this place which Clarke calls home.
Growing up "watching his father's back" he began imitating the artist's trade, and was already selling paintings by the time he reached age 11. Most buyers were oblivious the painter was a mere child.
He later carried on the family business, engaged in commissions of sign painting, illustration, and commercial art.
During a family trip, his mind sped to thoughts about the dog they could not bring along; this was what gave birth to the Lonely Dog fable,
The Lonely Dog works of art now number over 200, comprising an enormous collection.
Some of these are exhibited for sale at galleries in New Zealand and the U.S.
Akira Otsuka
©2019 sundaysgraphics / AKIRA OTSUKA and Licensed by soon inc
Born in Nagaoka, Niigata, Ōtsuka currently resides in Setagaya-ku, Tokyo, and is a member of JiLLA, the Japan Illustrators' Association.
A graduate of Tokyo Designer Gakuin College, he joined Joymark Design, an apparel manufacturer, where he created the popular character Captain Santa.
He became freelance illustrator and character designer in 2005, and headed the Sundays Graphics studio.  His style is noted for its American character touch.
In the summer of 2005, the studio's original brand Sunday Sundy T-shirts was released for sale at the Sony Plaza. In 2007, the studio's A-kun, Lu-chan, and Bi-kun became mascots for the Japanese soccer team Albirex Niigata.
In 2008, he created the characters Phoeny and Don-Bee for his earthquake-stricken hometown of Nagaoka, famous for its firework festival.  Phoeny the Phoenix was symbolic of the city's recovery efforts from disaster.
In 2017, he produced Saku-saku Katsu-mon, the official mascot commemorating the 50th anniversary of the eatery Tonkatsu Shinjuku Saboten.
Many of his characters have also appeared in illustrated books.  He has done illustrations, characters, and graphic design for apparels, kids' brands, headwear, houseware, and created original characters for corporations, organizations, and new products.  He has also done calendars, pamphlet illustrations, as well as participating in project exhibitions.